26 Oct
Last night, Scott Olsen, a Marine who served two tours in Iraq, was struck in the head by a "nonlethal" projectile fired by the Oakland police. The round fractured his skull, leaving him in critical condition. Olsen had joined with other members of Occupy Oakland to peacefully protest the group's eviction that morning. When a group gathered to help Olsen after he was hit, a police officer threw a flash bang grenade into the group from a few feet away.
Deeply disturbing video of the incident was captured by a local news crew and provides the clearest evidence yet of the lengths that authorities will go to to stop Occupy protesters from voicing uncomfortable truths about our economy.
Yesterday's eviction in the predawn hours, and last night's violence against protesters, are only the latest attempts to silence the voices of those who are speaking up for the 99%. But members of Occupy Oakland, who faced the most brutal crackdown yet, refuse to be intimidated. They've called for another peaceful gathering tonight to stand up for their First Amendment rights.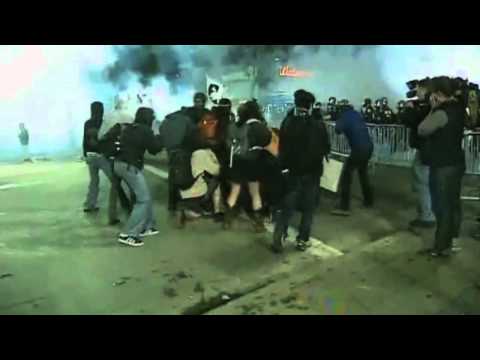 If you're as horrified by this as we are, please sign this petition to Oakland's mayor and then share this page with everyone you know.